Hajar har alltid fascinerat mig
ända sedan jag var en liten fis och upptäckte faktaböckerna
Focus
hemma i bokhyllan. Där satt jag och läste om hajar och dinosaurier och i vilken ordning saker och ting skapats på jorden. Så fort det var program om hajar på tv var jag absolut tvungen att titta vilket har medfört att jag är skiträdd för djup, även om jag simmar omkring i en sötvattenssjö som Vättern. Vem vet, någon ond jäkel kanske har släppt lös i tjurhaj i böljan den blå?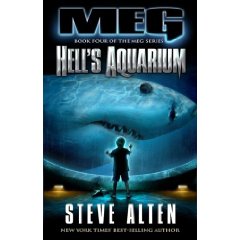 Hur som haver. Har på senare tiden filurat ganska mycket kring jättehajen Megalodon som enligt beräkningar bör ha varit lite drygt 20 meter lång och därmed fasligt tacksam att skriva skräck om. Hittade en boktrailer på tuben om hajen av någon Steve Alten som verkar ha nischat in sig på att skriva böcker om de flesta myter och mänskliga mysterier som han kan lägga vantarna på. Hör bara på titlarna så fattar ni vad jag menar:
The Trench, The Loch, The Mayan Prophecy
och såklart några böcker om Megalodon som alla heter
MEG
med undertitlarna:
A Novel of Deep Terror, Primal Waters
samt
Hell's Aquarium.
Den sista är jag lite sugen på att läsa. Då mitt senaste och enda möte med en
bok
som helt ägnade sig åt vattenlevande djur handlar om en kvastfening (ett spännande mysterium i sig) som fredligt gömt sig för människan i årtusenden (åtminstone dem som sorterar växter och djur) och lyckats inbilla oss att den var utdöd med dinosaurierna, känns ganska gullig och söt i jämförelse med den läsning som jag tror mig möta i
Hell's Aquarium.
Känns det som att det är ett smart val till sommarläsning på stranden, kan jag undra? Lurar det en jättehaj i vattnen kring Gotlands kust där jag kommer spendera en semestervecka? Är det värt att skrämma sig själv till ännu djupare djupfobi än den jag redan har?
Jag tror jag får svara ja på den frågan. Det kan ju vara rysligt mysigt på något sätt ändå: ligga där på playan och skrämma sig så till den milda grad att jag får bada invid strandkanten i det, med småbarns hjälp, ljumma vattnet. En bra läsplan som säkerligen går i lås i juli. Jag kör på det, tror jag...
Trevlig sommar!
MEG: Hell's Aquarium
Någon som läst något av Alten? Är det han skriver bra?
Rekommenderas!